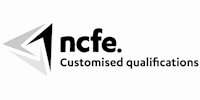 NCFE CQ awarding body
What we're all about
What are Customised Qualifications?
Customised qualifications are the perfect solution for your organisation if you have training needs that aren't met by regulated qualifications.
Customised Qualifications are unregulated qualifications designed by your organisation and accredited by us – they just need to have measurable learning outcomes and assessment criteria!
Your organisation makes the judgement on achievement and you retain all ownership and intellectual property (IPR) of your qualification(s).
Why choose Customised Qualifications
Stamp of approval
Offering Customised Qualifications means you have accreditation from a leading Awarding Organisation, demonstrating the quality and rigour of your qualification(s).
Certification for your learners
We issue your certificates, which demonstrate the new skills, knowledge and competence your learners have achieved by training with you. The certificates include your logo as well as ours, which helps show our confidence and approval of your qualification(s), helping you to re-enforce the quality of your training.
Support of specialists
Your organisation can utilise both the NCFE and CACHE brands, perfect for tailoring your products to certain markets and sectors. A dedicated External Quality Assurer will also visit you once a year, they'll provide ongoing support as well as a report to demonstrate rigour and quality in helping your learners succeed.
Speedy service
We don't want to leave you waiting around, so we do things as quickly as possible. This means your qualifications could be accredited within 15 working days once you're an approved centre. We also recognise your learners' achievements by issuing their certificates within 24 hours of you completing your claim.