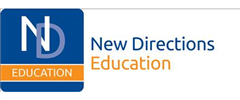 Jobs from New Directions Holdings Limited
New Directions is a group of companies offering specialist recruitment and training services to key employment sectors. In 2012 the business was named as a 'Hot 100 Recruiter' by the Recruitment and Employment Confederation (REC) publication Recruiter Magazine. Most recently the group has been identified by the London Stock Exchange as one of the top 1000 medium sized companies to Inspire Britain.
The group employs around 120 staff in offices across the UK and the business operates in the following towns and cities: Cardiff, Swansea, Ebbw Vale, Wrexham, Hereford, Birmingham, Bristol, Liverpool, Manchester and London.
The New Directions group of companies operates across key sectors of the economy that include education, social and domiciliary care and pharmacy recruitment.
We recruit in the following areas:
Education - we are one of the largest education recruitment and training specialists in the UK supplying:
Qualified Teachers
Classroom / Learning Support Assistants
Nursery Nurses
Cover Supervisors
Exam Invigilators
Laboratory and IT technicians
Ancillary Staff – e.g. office administrators, caretakers
Social Care - we provide recruitment and training to the social care and nursing sectors supplying:
Care Assistant Vacancies
Children's Residential Support Workers
Learning Disability Support Workers
Mental Health Support Workers
Nursery Nurses
Nursery Nurse Assistants
Nursery Room Supervisors
Nursery Managers
Hostel Support Workers
Nursing Home Managers
Probation Support Workers
Care and Support – the care services we provide vary from light support and home help to more tailored services such as:
Personal care
Night care
Respite care
Full time live-in care
Pharmacy – we source locum and permanent staff to large companies, small chains and independent shops throughout the UK in the following fields:
Pharmacists
Pharmacy Technicians
Dispensing Assistants
By recruiting with New Directions you will have access to the highest calibre of candidates to meet your needs, delivered with professionalism, knowledge and expertise.
Furthermore, our highly skilled employees are committed to developing long term relationships with both clients and candidates by providing a continuous and dedicated customer service.