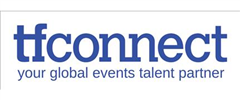 Jobs from tfconnect global recruitment
tfconnect is both an event organiser and a unique, specialist, global network of talent, connecting senior players in the industry with top-level roles, building teams and matching events professionals to the right businesses - from sales execs to CEOs.
Working as a partner, and with a quality over quantity approach - tfconnect specialise in hard-to-find senior and international talent. We work with exhibition and conference businesses all over the world - if you're looking for the next big challenge in your career - talk to us!
The global recruitment brand was built to meet the needs of companies in our industry looking to globalise and expand their businesses. This foundation, together with our professional insight and close relationships with large-scale, global organisers creates the distinction between tfconnect global recruitment and a regular recruitment agency.
We're known for our specialism in senior positions but we have a proven track-record in handling roles at all career levels from entry level to MD, CEO etc.
We offer a truly global reach for both candidates and employers.
We value confidentiality and an informal, consultative approach.
We believe in quality, not quantity. If we think there's only one candidate suitable for the role, we're not afraid to say so!