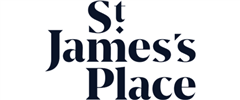 Jobs from St. James's Place Wealth Management
About Us
St. James's Place has built up a reputation as one of the UK's leading wealth management organisations, and is an award-winning FTSE 100 company. We are very much a growth company, with a strong track record of success and achievement.
To continue our strong growth, we are committed to attracting the best and most ambitious people. We look to work with proven professionals who have the skill and determination to help build our business. Our employees give us a sustainable competitive advantage and the attitude, knowledge and commitment of our people continues to be a strong differentiator from our competition.
We aim to attract the best people, enable them to fulfil their potential and secure their continued commitment by providing them with an interesting and challenging career within a first-class working environment.
We specialise in meeting the financial needs of people who have created more capital, or who earn higher incomes, than average, and whose circumstances are therefore more complicated than usual. Our clients ask us to help them address simple and straightforward issues and also to resolve complex and multi-faceted problems. In every situation, though, we respond with reliable and personal advice designed to suit their individual requirements.
We provide reliable and expert advice for individuals and businesses seeking to achieve these principal financial objectives:
Build and preserve capital
Strategic planning for retirement
Protection against financial risk
Business planning
Our Partners recognise that no one client's objectives or circumstances are the same as another. The relationships between Partners and clients endure because they are founded on mutual respect and trust, with the emphasis on building and maintaining a long-term relationship.