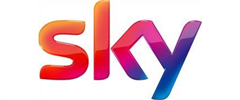 Jobs from SKY
Sky is Europe's leading entertainment company. Together our people deliver the best and broadest range of content, market-leading customer service and innovative technology.
Sky is Europe's leading entertainment company and serves 21 million customers across five countries: Italy, Germany, Austria, the UK and Ireland. We believe in better and that means offering a better choice of high-quality entertainment for the whole family and using technology to put them in control, whenever and wherever they want.
Together we work hard to give our customers a better experience and are always looking for ways to improve in everything we do. That's why our people are critical to our success. Our unique environment helps everyone to do their best work, fulfil their potential and achieve great things together.