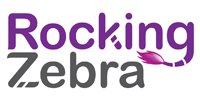 Jobs from Rocking Zebra
Let's be honest don't we all just want a Recruitment Consultancy to do just that ....Consult? Here at Rocking Zebra this is the life blood of what we aim to offer our candidates and clients. We cut the waffle and get down to what we do best listening.
No hard selling just relevant conversations about relevant jobs to relevant candidates and similarly relevant conversations about relevant candidates to relevant clients how quirky is that?!
With oodles of senior commercial experience, we have had time to understand what you guys need and hopefully you will agree.
Do you want to enter the world of this refreshing and honest agency who deliver results?
We think delivery says it all so what are you waiting for click on the links that best suit your needs whether you are looking for an online marketing job in Swindon, a creative role in Bath or a sales job in Bristol hopefully we can help you find the perfect role.
Go on get in touch – we would love to hear from you...
Specialties:Recruitment, Executive, Sales, Marketing, Creative, Digital, New Media, Technical, CRM, Design, Mobile, Cloud, Support Functions