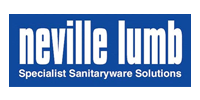 Jobs from Neville Lumb
Neville Lumb was originally found over 100 years ago in 1882 by George H. Cakebread and Arthur E. Robey (then known as Cakebread Robey).
Obviously since then the business and the industry we deal in has changed quite considerably. However, the original commitment to superior customer service and consistently supplying high quality products at the best price remains the same today.
During this time Neville Lumb has established itself as the leading specialist supplier and stockist of sanitaryware, brassware as well as plumbing and heating materials. We are also now recognised for our superior estimation service where we provide clients and customers with honest and accurate quotes for projects unlike many of our competitors, completely free of charge.
Neville Lumb in recent years has also been at the forefront of innovation within the sanitaryware industry, providing environmentally friendly, water conserving solutions for both trade and domestic customers.
Since our foundation we have acquired and absorbed many established names within the merchant trade industry, bringing them all under the Neville Lumb banner. These merchant business acquisitions include:
Ridley & Hooper
Clark Hunt
J H Tripp
Keith Bulding Services
A Olby & Son
Folkard-Bolding
Arthur Collar
Dixon Scott
D & T Holmes
W P Winter
In August 2001, Neville Lumb, formerly known as Cakebread Robey plc, was acquired as a branding partner to sister-companies such as; Jewson and Graham. For administrative purposes, Neville Lumb has been attached to the Graham division within the Larger Group.
Since this acquisition, Neville Lumb has gone from strength to strength, combining; the industry clout, expertise and considerable resources of our branding partners; Jewson and Graham, while maintaining a continued independence and dedication to quality service refined through well-over a Century of experience.
Neville Lumb has branches all over UK providing specialist services in the contract supply of sanitaryware to housing development and commercial sectors. We also have branches which specialise in the distribution of other light-side builders merchant materials including; plumbing & heating and laboratory fittings & chemical waste systems.