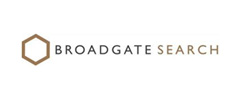 Jobs from Broadgate Search Ltd
Broadgate Search is a specialist governance recruitment business. We are market leaders in the regulatory and financial services sector. We have divisions with an international reach based in London and Dublin and are looking to further expansion to reinforce our status as one of the fastest growing recruitment specialists.
We know our market. Our reputation with our core customers in financial services including major banks, building societies and insurers is second to none and we welcome our fast-expanding client base of firms outside financial services. Companies in all sectors internationally, looking to develop and expand their regulatory teams, can, and do, embrace and trust the global expertise that is Broadgate Search.