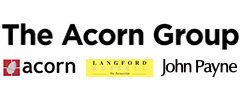 Jobs from Acorn Ltd
What we do?
Founded in 1984 as a one-office, independent estate agency, The Acorn Group now employs over 300 staff, working from over 30 different offices and divisions. Renowned as market leaders as the UK's Number One Boutique Estate Agency, The Group was identified by the London Stock Exchange as one of 1000 companies to inspire Britain in 2015.
The company's growth has seen the incorporation and inception of other leading brands including John Payne, Langford Russell, MAP Chartered Surveyors and Start Financial Services and it continues to expand, providing exciting career opportunities to new and existing staff alike.
What we look for
The Acorn Group seek professional, hardworking individuals with the desire and motivation to succeed. We pride ourselves on our Customer Service standards and our employees need to hold this in the highest regard. We look for loyalty, innovation and tenacity and for the employee to assist in the development of the business while working as part of a team to maximize business opportunities.
Benefits
We take pleasure in awarding our top performers with outstanding prizes at The Group's Annual Awards Ceremony; family holidays, city breaks, designer watches and luxury leather goods. We provide excellent salary and uncapped commission packages as well as a Club Bonus. We provide full training through The Acorn Academy and offer an excellent team environment in a dynamic and progressive company.
Over the years with the continued growth of our business, we have never lost sight that we work in a service industry. The fundamentals of customer care are still applied in the same way today as the day we first opened our doors.
The Acorn Group Divisions and Subsidiary Companies:
Residential Sales
Residential Lettings
New Homes
Commercial
Investment
Land & Development
Corporate Asset Services
Property Management
Estate Management
Start Financial Services
John Payne
Langford Russell
Unique
Conveyancing
MAP Chartered Surveyors
Corporate Sales
Corporate Landlords
PR Division
HR Division
Start Inventory Services