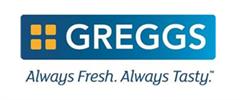 ---
Join the family
We believe in growing together – as a united team and working towards the achievement of our vision which is to be a winning brand in the food-on-the-go market. Greggs is a much loved and trusted brand with a strong traditional bakery heritage. Our people are what makes our business successful.

We aim to provide our people with a great place to work, where they feel valued by listening, developing and rewarding them.
Pay Rates
Age 16-17 Starter Rate: £6.90
Age 16-17 Full Rate: £7.12
Age 18+ Starter Rate: £8.21
Age 18+ Full Rate: £8.38
Shift Pattern and Contracted Hours
Hours: 16
Shifts: This is an exciting retail opportunity to join one of Britain's best known name on the high street; Greggs. We are looking for confident and outgoing people to join our family as a team member. The role involves serving our customers in a fast and friendly manner while helping to maintain a clean and inviting shop for our customers. We will teach you all the ins and outs of working in a Greggs shop, from serving our customers, making our award winning sandwiches to baking our wonderful pasties and sausage rolls. This position offers a 16 hour contract, with scope for picking up more hours as overtime. The shifts will be split over 3-4 days and have a minimum of 4 hours per shift. Shift times vary from 4.30am starts to 6pm finishes. If you like a challenge and are looking for either a first step into retail or a chance to show off your skills then we would love to hear from you.
Contract: Perm
Job Description
Greggs Team Members are the face and voice of our organisation, engaging with our customers and offering a fantastic shopping experience no matter what time of day.
Join our family and you'll be part of a team that loves to put the customer first in all that we do.
This means a passion for delivering fast and friendly service, pride in preparing our much loved products and keeping the shop clean and tidy; of course they'll be time for some fun along the way.
You'll fit right into the Greggs family if you're not afraid of hard work and commitment. Some customer service experience always comes in handy although not essential.
Skills
To be able to:
Deliver a fast and friendly service to every customer consistently
Work as part of a team focused on delivering a fast and friendly customer experience
Achieve consistently high standards to meet customers' expectations
Deliver relevant added-value to customers to increase sales
Support profit protection through effective cost control
Benefits
• Our Greggs Employee Staff Discount Scheme is very generous, offering you up to 50% off our food
• Your holiday entitlement starts with 21 days, in addition to bank holidays, which increases with service up to a maximum of 30 days after 25 years' service. (Pro-rata for part time)
• After 6 months service you may be eligible for our profit share scheme where the company distributes 10% of its profits and allows you to share in the success of the business
• You will receive free life assurance after 1 years continuous service. This is a death in service benefit which provides a lump sum payment equal to one years' salary
• You will automatically join our Greggs pension scheme which is a fantastic way to save for your retirement and allows you to benefit from employer contributions and tax advantages
• Other benefits include:
Share Save and Share Incentive Schemes
Employee Assistance Programme
Healthcare Plans
Cycle to Work Scheme
Your Application
During the application process we'll keep in touch every step of the way. We know how big a decision it is for you to apply for a job. Once you do we'll work hard to keep you up to speed on how your application is progressing. With your help, we can make your application as quick and smooth as possible.
Reference: 39500718
Bank or payment details should never be provided when applying for a job. For information on how to stay safe in your job search, visit SAFERjobs.
Report this job