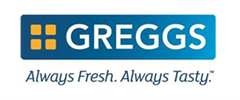 ---
Join the family
Greggs are coming to Gatwick Airport with a new Landside shop due to open in 2020.
We are looking for ambitious Supervisors to come aboard and lead this high flying team in our exciting and high-profile, new Gatwick Airport Landside Shop!
Greggs are bucking the high street trend and provide a solid and secure foundation for employees looking to progress their retail career, providing training, internal progression opportunities through new shop openings, secondments, etc. and rewarding all of our employees for their hard work, no matter which position they hold in the company, we value everyone's contributions.
Pay Rates
£9.72 per hour (includes Airport premium)
Shift Pattern and Contracted Hours
Hours: 39 hours per week
Shifts: The successful candidate can expect to work 39 hours spread across a 5-day week and will be expected to lead a team on varied shift patterns. We are looking for candidates to be available specifically for day time shifts between 5am and 10.30pm. If you like to be part of a busy, fun filled environment we'd love to hear from you!
Contract: Permanent
Job Description
Supervisors play a key role in the day to day running of our shops; you will work closely with both the Shop Manager and your team to ensure a fantastic shopping experience for our customers.
As well as some of the more practical tasks such as food prep and keeping the shop clean; you'll also need to keep your team engaged and motivated to deliver fast and friendly service.
Our shops are non-stop busy places so you'll have to stay focussed on delivering excellent standards and great products all whilst keeping an eye on your targets.
You will be responsible for running shifts throughout the week, cashing up and keeping an eye on every detail so some experience of supervising a team in a customer service environment is essential.
Most importantly your enthusiasm, hard work and leadership skills will inspire your team to deliver great results.
Your passion and an appetite to succeed as well as basic numeracy and computer skills are all you need to kick start your career at Greggs.
Everyone in our family values hard work, commitment and a flexible approach to working hours.
Skills
To be able to:
Deliver great service experiences for your customers
Support a high performing team
Together with your Shop Manager achieve consistently high standards
Assist your Shop Manager to drive sales in your shop
Contribute to the profit of your shop
Benefits
Up to 50% staff discount off Greggs products and free coffee and tea while at work
A thorough training programme to help you excel in your new role as Supervisor
Progression and development opportunities (we are expanding and progressing our people internally is important to us!)
21 days holiday per annum (plus bank holiday)
Discount partnerships
The opportunity to work for an organisation that listens to your ideas and opinions
The opportunity to work for an organisation that contributes to the local community through The Greggs Foundation, Breakfast Clubs, Local Charity Committees and much more!
Your Application
During the application process we'll keep in touch every step of the way. We know how big a decision it is for you to apply for a job. Once you do we'll work hard to keep you up to speed on how your application is progressing. With your help, we can make your application as quick and smooth as possible.
Reference: 39925815
Bank or payment details should never be provided when applying for a job. For information on how to stay safe in your job search, visit SAFERjobs.
Report this job