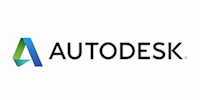 Autodesk awarding body
What we're all about
Autodesk is an American multinational software corporation that makes software services for the architecture, engineering, construction, manufacturing, media, education, and entertainment industries.
The company was founded in 1982 by John Walker, who was a coauthor of the first versions of AutoCAD. AutoCAD, which is the company's flagship computer-aided design (CAD) software and Revit software are primarily used by architects, engineers, and structural designers to design, draft, and model buildings and other structures.
Autodesk offers certificates in two categories: Autodesk Certified User and Advanced Certified Professional.
Autodesk Certified User - Verifies entry-level skills in key Autodesk products. Designed for students and instructors who wish to demonstrate basic proficiency. Curriculum, courseware, and exams offered for independent study or institutional integration.
Advanced Certified Professional - Validates more advanced skills, including complex workflow and design challenges. Designed for students seeking a competitive advantage in a specific product area.