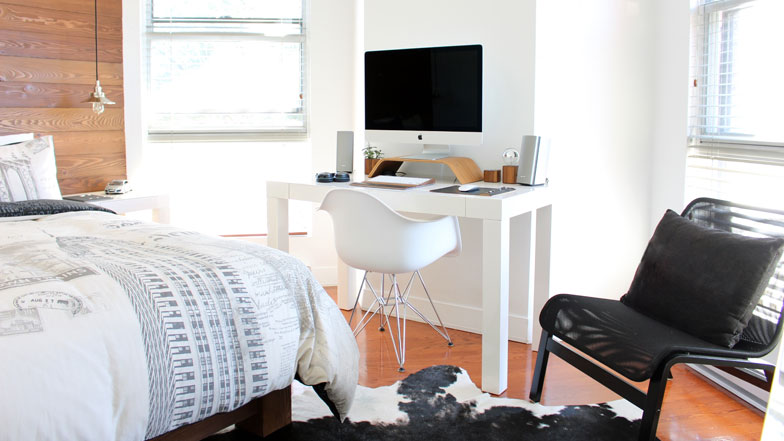 Home-working jobs: bringing the office to you.
Are you looking for something outside the normal nine-to-five job? Does the idea of the daily commute going to the same old dreary office every day fill you with dread? If the answer's yes, working from home might be for you.
Here are some careers to consider if you're looking to work from home, and some of our top tips to help you get there:
What jobs can I do working from home?
Don't think working at home will work for your interests? Think again.
Although often seen as only being an option for a handful of professions, home working is an integral part of a wide range of roles. So no matter what your skills are, and where you want to go in your career, it should be an option for you.
Here are just a few jobs you can do working from home…
Freelance Writer
What they do: Write and edit for a wide range of publications, blogs and websites. You could choose to specialise in a certain industry and write solely for one publication, or write for several different sources simultaneously, across a range of different spectrums.
What you need: Outstanding copywriting skills, an excellent grasp of grammar, creativity and the ability to meet deadlines. A journalism or creative writing degree would be advantageous, but in this industry experience and a portfolio of work at a consistently high standard are just as important as qualifications.
What you can earn: You will usually be paid on an article-by-article basis, centred on the number of words you submit. This can range from £10 or £20 per small submission or review when starting out, to several hundreds of pounds for longer articles.
Perfect for: People who like to blog.
Our advice: If you don't have a blog, set one up. Not only will this allow you to perfect your writing, it's also the perfect way to maintain an online presence and demonstrate your ability, especially if you feel passionate about a particular specialism.
View all Freelance Writing jobs now
Graphic Designer
What they do: Design and develop visual presentations. This could be for advertising purposes, such as brochures and packaging design, company signs and logos, website design, posters and a whole host of other mediums.
What you need: Creative flair and a passion for design. For freelance Graphic Designers, self-discipline and the ability to meet briefs and deadlines are a must. A degree is not necessary, but a good portfolio of work or design concepts will be essential in this industry. From a technical perspective, a computer equipped with Photoshop or similar will help bring your concepts to (digital) life.
What you can earn: Anywhere up to £30,000 per year, although this will be entirely dependent on experience, client base and level of output.
Perfect for: People who like to sketch, illustrate, doodle and draw.
Our advice: Build up a portfolio of any work you complete, design concepts you come up with or any other examples of your design skills. In this industry your style and natural talent will speak volumes, and as soon as you begin to find paid employment your body of work will begin to speak for itself.
How to become a Graphic Designer
View all home Graphic Design jobs now
Tutor
What they do: Provide one-to-one tuition and teaching to students of all ages, in a range of different subjects. This could involve working from your own home, visiting theirs, or even conducting tuition over Skype to students all over the world.
What you need: Aside from the ability to teach and provide motivation, a bachelor degree in your specialism is usually necessary (although a PGCE generally isn't). Many employers will also prefer tutors to have previous experience in teaching at some level.
What you can earn: Around £20 an hour, depending on experience and the students desired qualification.
Perfect for: People who live to teach.
Our advice: Start tutoring in a private capacity to build up your skills. Advertise in your local area to build up a small clientele, and see how far you can go. Once you're comfortable teaching and have some experience, you can start applying for tutoring positions or agencies and go from there.
Recruitment Consultant
What they do: Source the right candidates for a range of different roles.
What you need: Whilst there are no formal qualifications needed for an entry-level position, excellent communication, good negotiation skills and a goal-driven personality are all musts.
What you can earn: Starting salary of around £15,000, rising to a few years of experience and a proven track record of hitting your targets, and your basic salary could top £30,000. Not to mention bonuses in the thousands.
Perfect for: People who can sell.
Our advice: In all likelihood, you will have to spend a fair amount of time on the phone with current and prospective clients and candidates. Therefore it is vital to ensure your home phone can double up as an office handset too. Look out for small business deals to ensure those calls don't rack up astronomical bills.
How to become a Recruitment Consultant
View all home Recruitment Consultancy jobs now
Childminder
What they do: Provide care for one or more children, while their parents are at work or studying.  This could be caring for babies and children under five during the day, or older children when they finish school or during holidays.
What you need: You will need to be at least 18 years old, and be registered as a childminder with Ofsted before pursuing this as a career. Patience is also a necessity, although not necessarily an official pre-requisite.
What you can earn: Around £5 per hour, per child. Although this would vary greatly depending on location, qualifications and experience.
Perfect for: People who love children.
Our advice: If you're considering this as a career, you can start as a Childminding Assistant. It's a great way to add to your own experience, and also get a feel for how the job would really be if you were to pursue it full-time.
Other jobs you can do from home: Sales, Mobile Beautician, Hairdresser, Web Developer, Bookkeeper, Accountant.
Top tips to work from home
Here are some of our top tips for finding a job working from home:
Don't make any rash decisions – Deciding to work from home is a big decision, especially if you're freelancing and money is not guaranteed.
Trial periods – For many working from home jobs, you can test the market whilst still working or if you have a busy schedule. Becoming an Assistant Childminder or submitting a few articles as a Freelance Writer are just two examples.
Be productive – Learning how to work from home effectively and efficiently will be the best step to successfully turning your passion into a career.
Be passionate – Don't just work from home for the sake of it. Make sure you are passionate about what you do. Otherwise the motivation to get out of bed will start to wain (especially if your bedroom is your office).
Be prepared – To start building a body of work, be prepared that you may have to work for free, at least to begin with. Once you've made some good contacts and gained some experience, paid work will follow.
Be realistic – Working from home can be lucrative, but it will take a lot of hard work and dedication to get to that level.
Start learning – If you need an extra qualification to back up your soft skills and find the right role, take a distance learning course to take you to the next level.
Separate work and play – Where possible, keep your working environment independent to a set space. That way, when your working day ends, you can unwind in a different environment.
How to stay productive while working from home
Working from home mental health tips
How to find work from home jobs
Finding working from home jobs on reed.co.uk couldn't be simpler.
Firstly, you can perform a regular job search by inputting your desired job title or sector in the search box. Once you have your list of search results, all you need to do is check the 'work from home' filter box. This is located on the left-hand side of the page for those using a desktop, and at the top of the screen (within the filter drop down) for anyone searching from a mobile device.
Alternatively, you could click the 'work from home jobs' link within the trending jobs section on our homepage, or simply visit the work from home jobs page directly to start your search.
Ready to find your ideal position? View all working from home jobs now.
Sign up for more Career Advice