By global comparison, the UK ranks well for paid maternity leave. Yet, according to a study by USwitch, 28% of new mothers in Britain end up in debt. One explanation lies in the distinction between 'paid' leave and 'well-paid' leave.
According to the International Network on Leave Policies and Research, receiving 66% or more of your salary while on maternity leave is considered 'well-paid'. Using this benchmark, the UK finds itself slipping down the charts, as shown below.
In the chart above, only 5 countries (Sweden, South Africa, Canada, Australia and the UK) drop down the table when you consider well-paid leave as opposed to just paid leave.
The following calendar paints a clearer picture of maternity leave in the UK, by distinguishing between the duration of paid, well-paid and unpaid entitlement.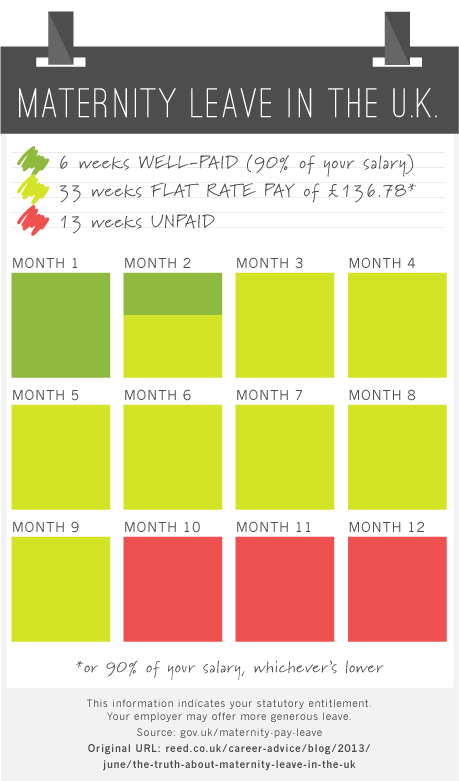 New fathers in the UK are entitled to a fortnight's paternity leave at a capped rate of £136.78 per week. According to a government study, 34% of fathers in the UK don't take the full 2 weeks, 66% of whom said it was because they couldn't afford to.
The picture in Scandinavian countries is very different, with 90% of new dads in Norway taking their full paternity leave, and 73% in Sweden. Paternity leave in Norway and Sweden more than qualifies as 'well-paid', while fathers in Britain are offered only 31% of the national average salary.
The above comparisons all relate to statutory pay, the minimum amount employers are legally required to provide. Some companies, however, offer more generous maternity packages. Accounting firm KPMG, for example, offers 16 weeks of fully paid maternity leave.
When she went on maternity leave, working mum and blogger Susan Mann was lucky enough to get paid two months' full wage before reverting to the statutory amount. But she says maternity leave was still difficult. "I made sure I saved and paid for any large purchases required beforehand then I kept some savings for an emergency."
Getting into debt is a real worry for expectant mothers. One tip from Susan is to renegotiate your mortgage terms: "I arranged to have a maternity mortgage break. This is not ideal as it means the interest you accrue gets added to the end of your mortgage. But it's the only way I could take time off without stressing or getting into debt."
Top tip from blogger and working mum Cass, from The Diary of a Frugal Family is, "Don't feel like you have buy everything brand new – second hand for most things is fine. And don't forget that you can sell things on when you're finished with them, baby things always sell really well."
Luschka from Diary of a First Child says she did have to make cut backs whilst on statutory maternity pay, but it was a small price to pay for staying at home with her children. "My top tip would be to decide what's most important to you, and invest in that" she said.
"To me, being home with my teensy, tiny baby was the most important thing that first year, and so I didn't feel that the things I had to give up were that much of a sacrifice."
If you've experienced maternity or paternity leave, what was it like? We'd love to hear your thoughts in the comments below.
If you own a blog, and you want to share this content, there's a full infographic available here, or feel free to share the charts embedded in this post.

Definitions:
In keeping with International Network on Leave Policies and Research's methodology, this post uses the following definitions:
Maternity leave is counted under the narrow definition of leave generally available to mothers only, to be taken just before, during and immediately after childbirth. It does not include entitlement to additional parental leave.
As opposed to maternity leave and paternity leave, parental leave is generally understood to be a care measure, intended to give parents the opportunity to spend time caring for a young child. It can usually only be taken after the end of maternity leave, and can often be divided between either parent, though sometimes contains specific minimum quotas for fathers and mothers. The UK offers 18 weeks of unpaid parental leave to be taken before the child turns five years old.
Paternity leave is counted as leave generally available to fathers only, usually to be taken soon after the birth of a child.
Source: International Network on Leave Policies and Research
Sign up for more Career Advice