Already planning your 2015 getaways?
OK, so everyone's holiday allowance works a little differently. With a little planning and preparation, however, we can all make sure we get the most out of our holiday entitlement this year.
As a general guideline, here are some of the best days to take holiday in 2015: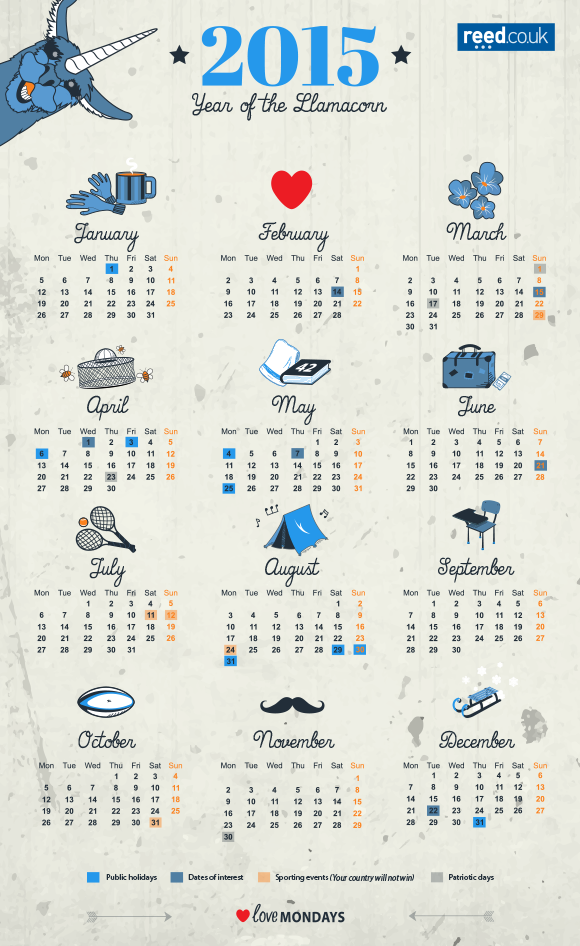 Public holidays
There are seven days in 2015 designated as public holidays.
And aside from the potential for six more lay-ins during the year (anti-morning people rejoice), it also equates to a grand total of four long weekends. Long weekends which, if you're clever with your holiday entitlement, you can stretch even further.
Let's put it this way: six days of extra holiday used will allow you to have 10 long weekends a year. Think of that next time you're tired at your desk on a Thursday afternoon…
Alternatively, looking for a longer break? How about taking four days' holiday in the weeks before and after Easter weekend? This would give you a grand total of sixteen days off to take an extended vacation, finally complete those home repairs. And by home repairs, we mainly mean boxsets on Netflix.
Bank holidays in 2015 are:
1st January – New Year's Day
3rd April – Good Friday
6th April – Easter Monday
4th May – Early May Bank Holiday
25th May – Spring Bank Holiday
29th August – August Bank Holiday
Dates of interest
Aside from bank holidays, there are a number of other days you may wish to book off, depending on your interests/relationship status/political persuasion/all of the above.
So whether you want to book a long romantic break mid-February, or you're particularly paranoid around your colleagues when April 1st rolls around, it pays to know what days you want to be elsewhere as early as possible.
Here are some dates of interest you may want to book a day off before, during or after during 2015:
14th February – Valentine's Day
15th March – Mother's Day
1st April – April Fool's Day
7th May – The General Election
21st June – Father's Day (also, Summer Solstice – longest day of the year)
22nd December – Winter Solstice (the shortest day of the year – so why not stay in bed)
Additionally, aside from being a bank holiday, 25th May holds added importance for some. At the very least, you should always ensure you know where your towel is…
Sporting events
For the sportingly inclined, there are a number of important events in 2015 you might not want to miss.
Highlights from the sporting calendar include the Cricket World Cup, the Rugby World Cup, the Ashes, Wimbledon, and various disappointing football fixtures throughout the year*. It's worth noting that we've chosen to leave the latter off of this list, mainly to avoid getting anyone's hopes up unnecessarily.
For the particularly optimistic, we've marked the finals of each competition on the calendar**, which you may wish to use a day of your holiday to recover from. The main noteworthy dates are:
29th March – ICC Cricket World Cup Final
11th & 12th July – Men and Women's Wimbledon Finals
24th August – Ashes Final Test – fifth day
31st October – Rugby World Cup Final
Patriotic days
Finally, we've marked off a selection of patriotic days. Book the day off (or, probably more usefully, the day after) and celebrate the saint's days the way they would have wanted. Maybe.
Obviously this is not an exhaustive list, so feel free to add your own dates of interest or national holidays on as you go.
1st March – St. David's Day (Wales)
17th March – St. Patrick's Day (Ireland/Northern Ireland)
23rd April – St. George's Day (England)
30th November – St. Andrew's Day (Scotland)
Other dates of interest
If you're into festivals, your yearly excursion to Glastonbury (24th-28th June)/V Festival (22nd – 23rd August)/Wallingford's Summer Music Festival Rugfest (19th June) – delete as appropriate – is probably best booked off. Especially if you're not looking forward to returning to work right away.
Other dates of interest include International Pillow Fight Day (4th April), Administrative Professionals Day (22nd April), and the Day of the Seafarer (25th June). And that's without even mentioning the fourth of May.
However you choose to spend your allocation in 2015, get it booked in early to avoid disappointment.
Happy holidays…
*Unfortunately we were unable to mark every sporting event on the calendar. No offence meant to any bowls enthusiasts or cheese chasers reading.
**reed.co.uk take no responsibility for any small semblances of optimism this calendar may cause.
Want a fancy high-res version of the calendar you can print out and stick on your wall? Of course you do… Download it here.
Sign up for more Career Advice