When the time comes to leave your job, it's not uncommon to feel lost for words…
Even if the reasons for your resignation are clear in your head, putting them in writing in a professional and business-like manner can be difficult.
We've covered how to resign, and what you need to know about your resignation letter, but if you're still lacking inspiration, some simple resignation letter examples can be a great way to get the ball rolling.
What to write in a resignation letter
Even if you want to keep it brief, there are some essential pieces of information you need to include:
Your name
The date
The position you're resigning from
Addressed to the appropriate person (line manager, supervisor, manager etc.)
When your resignation will take effect
Your signature
You may also want to mention your handover, to help your team transition smoothly once you leave. 
Of course, the reasons for your resignation could vary greatly, so there's really no such thing as a one-size-fits all resignation letter.
However, if you're still struggling putting your point into words, here's a few short resignation letter examples and samples to help you resign the right way:
Resignation letter sample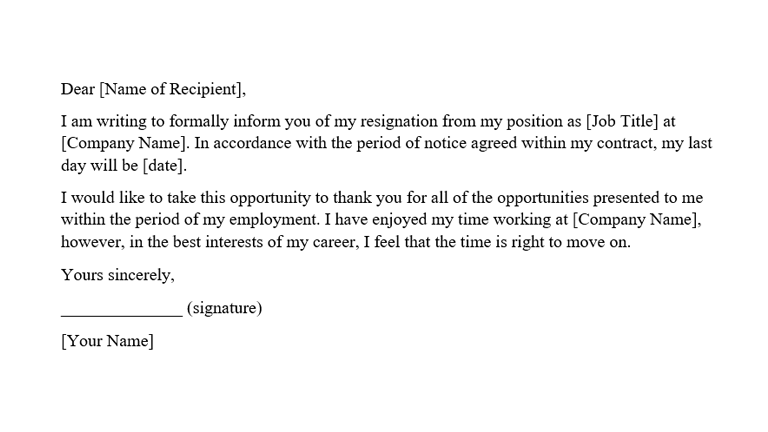 Formal resignation letter templates
If you want to keep it simple, try using the following short resignation letter template:
Found a new job? Here's the resignation letter template for you:
If you feel a lack of opportunities is your main motivation to leave, here's a resignation letter example that may help:
Top tips for writing a simple resignation letter 
Only include positive reasoning. Whilst you have no obligation to state your reason for resigning, it might be worth mentioning if it'll help to soften the blow and/or help your employer improve. But remember: always be positive. This isn't the place to voice your grievances.
Keep it professional. No matter how you feel about your employer, your resignation letter should always be written professionally. Thanking them for the opportunities you were given is a great way to keep your integrity in check (and avoid burning any bridges).
Don't forget formatting. Your resignation letter should be a typed document that follows the conventions of a standard letter. It should include clear paragraphs, be addressed to the correct person, and show the date clearly. Check our resignation letter templates to make sure you get the format right.
Follow the correct procedure. It's vital to check your employment contract before handing in your resignation letter. This will ensure you're covering all bases, and giving your employer the right amount of notice.
Eight of the greatest ways to resign
Eight terrible reasons for leaving a job
Now you're up to speed with your resignation letter, it's time to figure out how to survive your exit interview.
Still searching for your perfect position? View all available jobs now
Sign up for more Career Advice