Considering going back to uni? Things might have changed a little…
Whether you're currently studying for an undergraduate degree, you've just graduated, or you've been out of uni for a while – gaining a postgraduate degree is a great way to advance your knowledge, progress in your career, and even stand out to recruiters.
If you're not sure how further education differs from your undergrad experiences, here are a few things you might see differently as a postgrad:
Nights out
What undergrads think: 'Where can I get a pirate costume at short notice?'
What postgrads think: 'Enjoy queuing for overrated clubs, Captain Hook.'
Postgraduate degrees usually involve more research, studying, and additional life-admin duties you didn't have when you were 18. And, because of this, nights out might be less frequent than when you were an undergrad – not to mention less appealing.
After all, you've already enjoyed three years of uni life – and have undoubtedly outgrown partying until 5am every night, especially at a sticky-floored club with no concept of volume control.
You're not completely over nights out – you're just wiser (and have better taste in drinks).
Cleaning
What undergrads think: 'I should go and start my essay – just as soon as I've done the dishes'   
What postgrads think: 'I should really take a break from procrastinating…'
Although many years of cleaning the house once a month in a desperate attempt to avoid essays was great, you might not be able to save your work till the night before when you're studying for a Masters.
That means less time for procrastination, and more time for a clean-as-you-go and-study-more method. And/or learning to live in a constant state of 'organised mess'.
Hello, tediously organised cleaning rotas (and yes, there'll be at least one person who ignores it).
Accommodation
What undergrads think: 'Ah, free heating and electricity? Better get all of the fairy lights…'
What postgrads think: 'I still can't believe I have to pay for water…'
If you're a fresher, you'll get to benefit from the possibility of living in halls – at least for your first year. This equals unlimited heating and electricity, which is all included in your rent.
The latter part of your undergrad life will probably involve learning to budget in a house (see also: sitting in duvets because you can't afford heating), meaning you might do a better job at making your living situation more comfortable as a postgrad.
Studying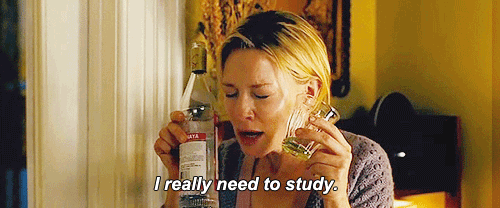 What undergrads think: 'I'll just do the essay the night before. 40% is enough to pass, right?'
What postgrads think: 'Study now, sleep later'
Studying for a degree involves a lot of work – whether you're an undergrad or a postgrad.
However, chances are your first three years of being a student were a little easier than studying for a Masters or a PhD. The work becomes more specialist and advanced, and involves a lot more self-motivation than it did in your undergrad days.
On the flip side, you'll be doing something you're really interested in, and you'll have a lot more choice on what you're writing. No more hurriedly picking modules, no more dull lectures.
#livingthedream
Friends
What undergrads think: 'Must make friends with everyone I see'
What postgrads think: 'Netflix is my friend'
Your first three years as a uni student often involve enthusiastically seeking friendship with everyone you meet, whether it's on a drunken night out, in a lecture, or in halls.
Unfortunately, the people you end up making friends with might not always be your favourite humans on the planet – which becomes obvious when you graduate and never speak to them again.
Postgrad life allows you to be more selective with who you hang out with, especially because what you do for fun might have changed.
Napping
What undergrads think: 'I need at least two naps per day'
What postgrads think: 'Napping is for the weak'
So, uni work is tiring. We get it.
But although napping seems like a great way to recharge after pulling an all-nighter – it isn't always viable. Especially when you're putting all your effort into getting a good grade, which is probably a likely situation if you're studying for a Masters.
But although your napping days might be behind you as a postgrad student, at least you'll have a decent enough routine to actually sleep at night. Naps just make you groggy anyway…
Eating
What undergrads think: 'My diet basically consists of chicken nuggets and spaghetti hoops'
What postgrads think: 'Finally, all the Come Dine with Me repeats are paying off'
As much as it seems totally fine to eat the bare minimum when you're an undergrad, the novelty of 7p packets of pasta eventually wears off.
And, as you start to enjoy eating more than going on big nights out, your money veers towards better food – food that will help your body recover from slumming it in undergrad life.
Additionally, many postgraduate students may have had the opportunity to work before returning to uni, and might also be settled in a full-time or part-time job.
In other words, name brands are back. You really can Taste the Difference…
Still searching for your perfect position? View all available jobs now
Sign up for more Career Advice