Just graduated, but unsure how to demonstrate your skills and experience on your CV?
Writing your first CV after graduating can be tricky, especially if you're looking for your first professional position. With some subtle differences in format, length and style, any opportunity to get the upper hand, including viewing graduate CV examples, can help you stand out from the crowd.
To help you increase your chances of success, we've spoken with the experts to put together our CV template for graduates:
Just here for the template? Click the link below:
Personal statement
Always tailor this to the role in question, and avoid generic introductions. It might feel like a way to make you stand out, but anything unrelated to the role is a waste of valuable space.
A personal statement should consciously try and answer the following questions: who you are, what you can offer, and what you aim for in your career.

Education
Education should generally be the focus of a Graduate CV. Write in reverse-chronological order, with the most recent events coming at the top.
Include your degree classification, A level/IB results and any other higher education diplomas. In direct terms, particular course modules you've undertaken may be relevant to a role or scheme you're applying for and should be used to demonstrate your wider knowledge of the subject.
When it comes to GCSEs, stating the number and general grades is fine, although most employers will ask for specific grades when it comes to Maths and English.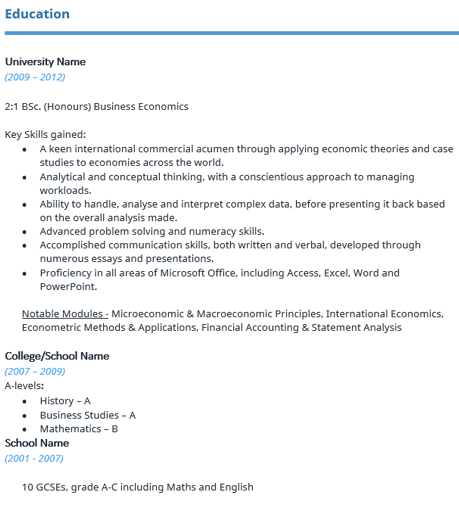 Hobbies & Interests
A Hobbies and Interests section is optional. If they're particularly individual, or actually back up your motives for applying for this role, then they should be included.
Ask yourself: Will they help you get the job? Socialising with friends and going to the cinema, for example, will probably be of little interest to the employer.
Finally, make sure you're happy to expand upon them during your interview if called upon.

Employment history
Chances are, you may not have that much previous work history to include here, and if you do it may not all be relevant. If this is the case, feel free to be brief.
After stating your dates of employment, company name and job title, putting a few top line duties and achievements will generally suffice. However, wherever possible, try and demonstrate your success in practical ways.
Not only will they help quantify your output, they will also help validate your awareness of meeting targets/key responsibilities.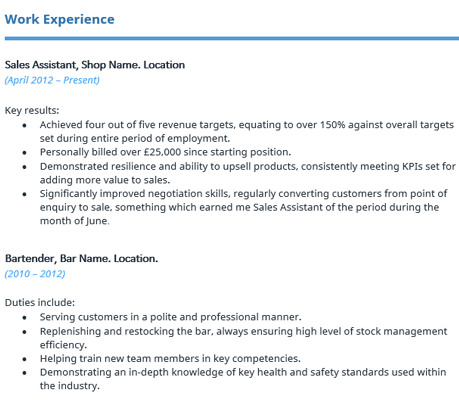 References
Unless asked directly in the job posting, making them available on request is fine. In any case, most will probably start by verifying dates etc. with previous employers.
Need more CV advice?
It takes an employer just seven seconds to save or reject a job applicant's CV. This means creating a succinct CV is absolutely vital if you want to land that all-important interview.
To find out how to make your CV stand out from the crowd, buy James Reed's new book: The 7 Second CV: How to Land the Interview.
Need to start again? Create a professional, fully formatted CV in minutes using the free reed.co.uk CV Builder.
Still searching for your perfect position? View all available jobs now.
Sign up for more Career Advice