Sales Associate
£6.52 - £6.90 per hour
100+ applications
Job type:

Permanent, full-time

Date:

Reference:

21162870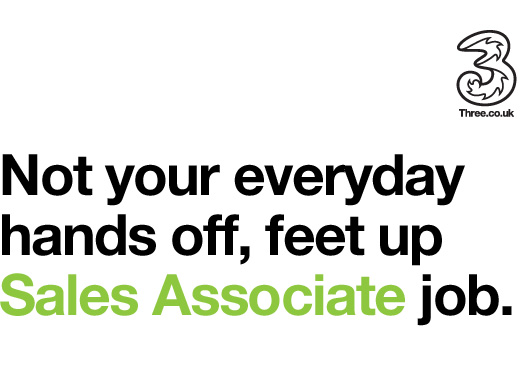 Sales Associates
Nationwide Opportunities
Great money, bonus and benefits, including a free phone, free calls and texts, and a free Mobile Broadband dongle.
Three might be the fastest growing UK network, but that's not because we've sat back and let things happen. We're hungry, motivated, and passionate about making customers happy. The very qualities we look for in our Sales Associates.
This isn't your standard sales environment. Our business might be fast-paced, but we still see customers as individuals; striking up conversations, listening to what people really want, and helping to find a deal that's right for them. There'll be challenging targets to meet and plenty of responsibilities to keep you busy. From smartphones to mobile wifi, we'll teach you everything you need to know about the technical side of things so you can focus on delivering a customer experience like no other.
We're after sales people who have the confidence to approach customers, bring plenty of personality and want to succeed at work. You don't necessarily need to have worked in a mobile or telecoms store before, but customer service experience is important. And to keep up in an environment as fast-paced as ours, enthusiasm and energy are every bit as important as great selling skills.
Three might be the fastest growing UK network, but good service isn't just about size. It's about speed and quality too. Which is why we also work hard to provide the quickest and smoothest internet on the move. With affordable pricing and plenty of ways to stay connected, it's not surprising we're such a popular choice for smartphone and mobile broadband users. We're committed to improving things for our customers and it's an attitude that's reflected throughout our business: every single person at Three believes we can challenge, change and lead the mobile communications industry. We're no ordinary telecoms company. And this is no ordinary career. Things move faster at Three.
If you're ready to take things up a gear, please click to apply.